NPrinting Alternative for Qlik Sense
Meet the only 100% web based reporting solution built for modern BI, from a Qlik Technology Partner.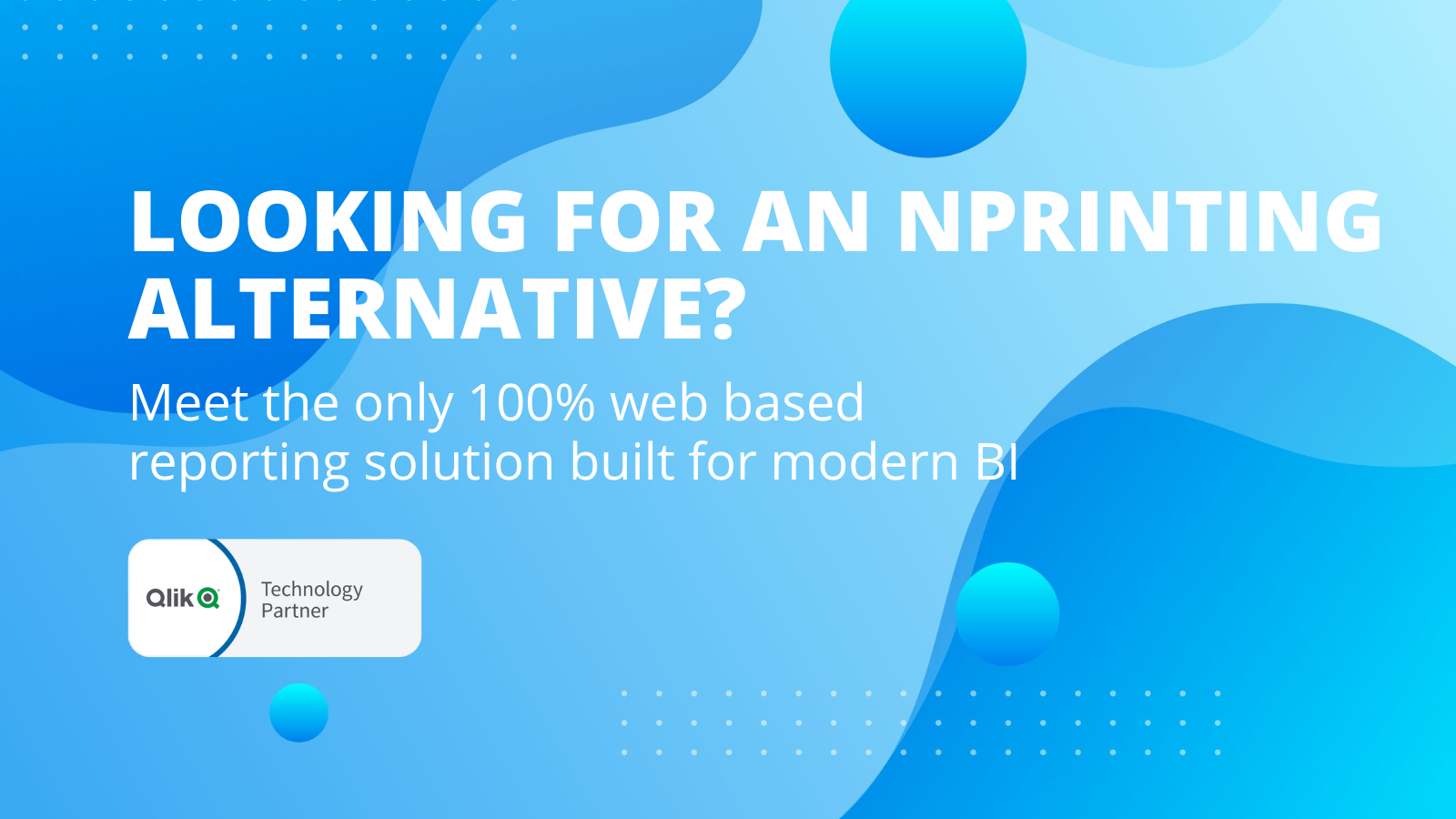 Looking for an NPrinting Alternative? We hear you. Desktop software dependencies, scalability issues, poor ease of use, API limitations, challenging report authoring experience — we've heard of it all.
ConnectReport is the only 100% web-based reporting and document generation platform with support for Qlik Sense. It has no dependency on desktop software, and allows even casual business users to create reports on Qlik Sense data directly from their browser. Unlike all the other tools, ConnectReport provides a live preview of reports as you work, and does not depend on expert-level knowledge of software or scripting languages to deliver documents on your Qlik Sense content. ConnectReport is trusted by the world's most advanced BI teams across Finance, Healthcare, Retail and other sectors to provide document automation capabilities on top of BI.
The truth is, we're not an NPrinting alternative — we're the document automation platform that's built for modern BI. We may happen to cover 99% of what software like NPrinting can accomplish, but we didn't set out to build a product that maintained the status quo, we set out to rethink reporting for today's BI & analytics landscape.
Today's data landscape is open, composable, user-friendly, and fast paced. You need vendor agnostic solutions with open APIs, self-service capability, and a modern technical architecture behind it.
ConnectReport is the platform independent solution that powers document generation at scale for today's data landscape. Regardless of your data source, ConnectReport enables you, and nearly anyone in your organization, to deliver insights across your business without the friction of traditional tooling.
Learn more about ConnectReport's disruptive self-service document generation model in the platform overview.
The ConnectReport Difference
Self-service reporting
Traditional reporting depends on report developer with deep expertise to manage the entire document lifecycle. Reports originate within the reporting team, and any change requests depend on the team to turn around.
ConnectReport puts power into the hands of end-users. Anyone who has permissions to author reports can access the 100% browser-based self-service template editor. The template editor provides a live preview as users work.
ConnectReport also supports hybrid models of self-service + traditional reporting. Base templates can be configured to give users a kickstart on reports.  Downstream users may work from base templates and make modifications to reports as needed, rather than being blocked by the reporting team.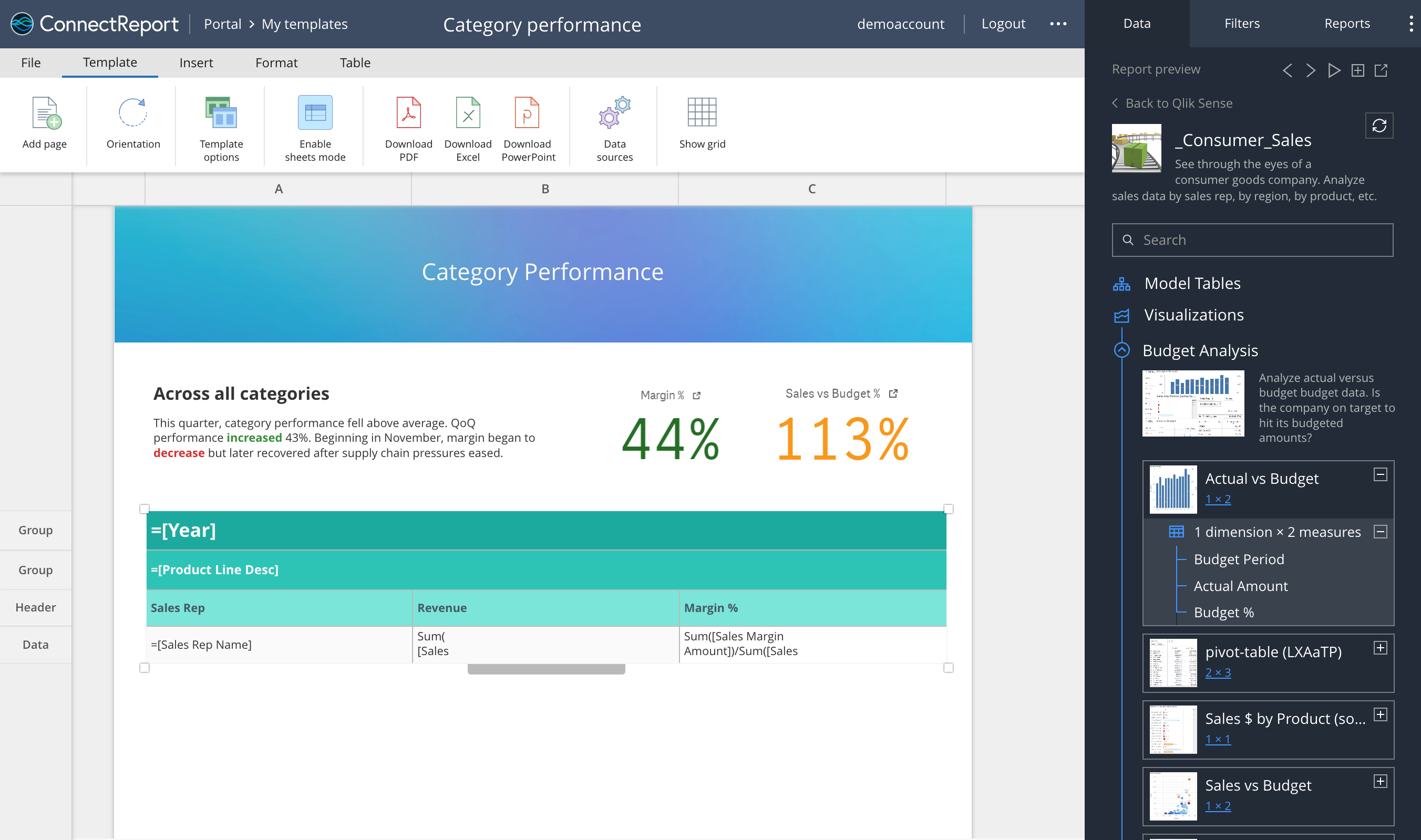 Simple deployment and installation
ConnectReport's deployment process is a fast and simple one-click installation process. Once installed, integration with Qlik Sense Cloud and Qlik Sense Enterprise is a straightforward, one-time process.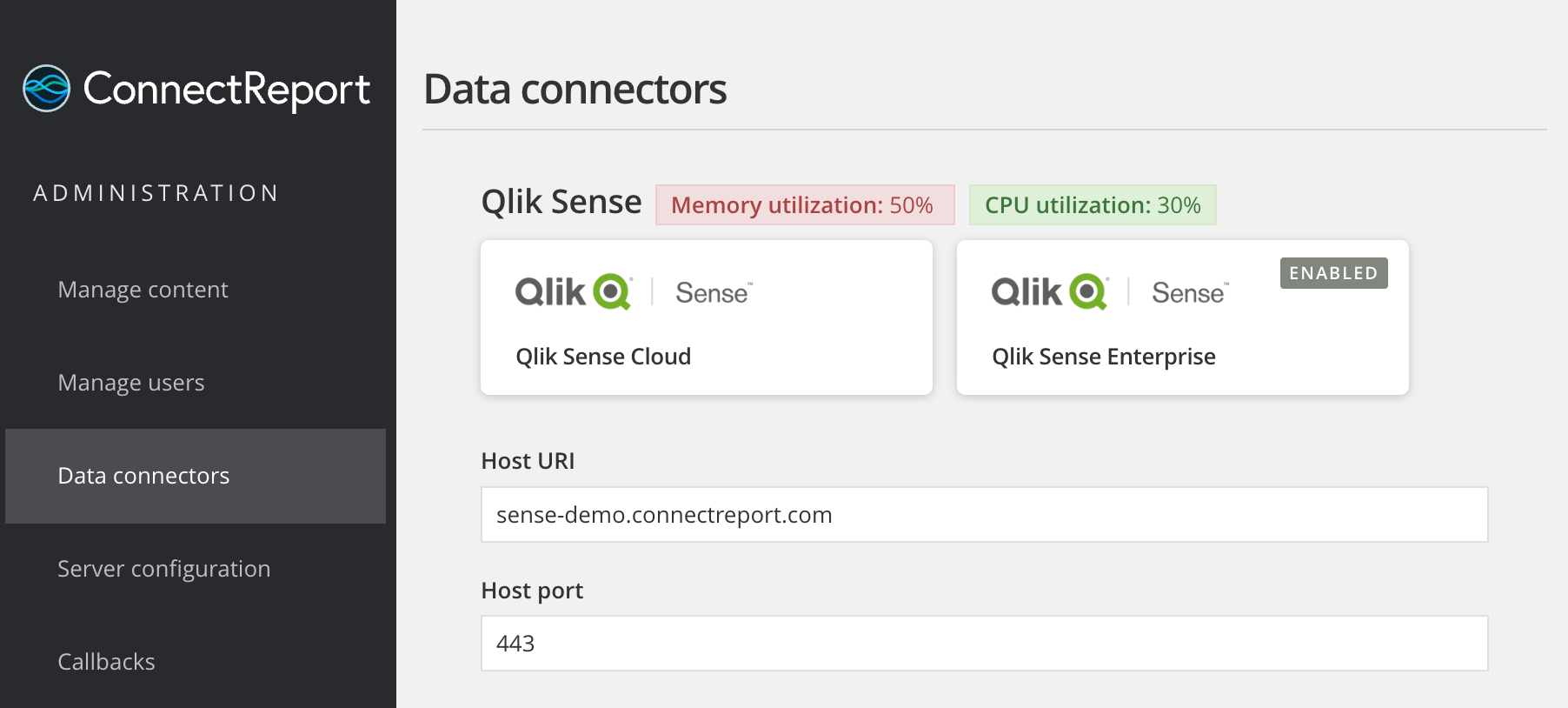 Governance and security
Your data security model is inherited. ConnectReport accesses Qlik Sense data on behalf of Qlik Sense users, making section access rules carry directly over to the reporting experience.
In addition to inheriting data source security rules, ConnectReport also has its own role-based access control, audit logging, and extensive usage information available in the ConnectReport Management Console to indicate things like who is running reports, when, and on what data.
Template editor built for everyone
Self-service, modern BI deserves a reporting experience that matches.  ConnectReport's intuitive, web-based live template editor allows anyone comfortable working with data to build documents and reports right from their browser. Learn more about creating templates in ConnectReport in the Getting Started Guide.
Powerful Qlik Sense connector
Our rich Qlik Sense connector deeply integrates with your Qlik Sense deployment. The Qlik Sense integration allows users to drag in master library items including dimensions, and measures, as well as work with data model tables and fields, and dashboard content like visualizations and sheets. In addition, our powerful data content image indexing system delivers instant previews of visualizations and sheets as soon as they are dragged into templates.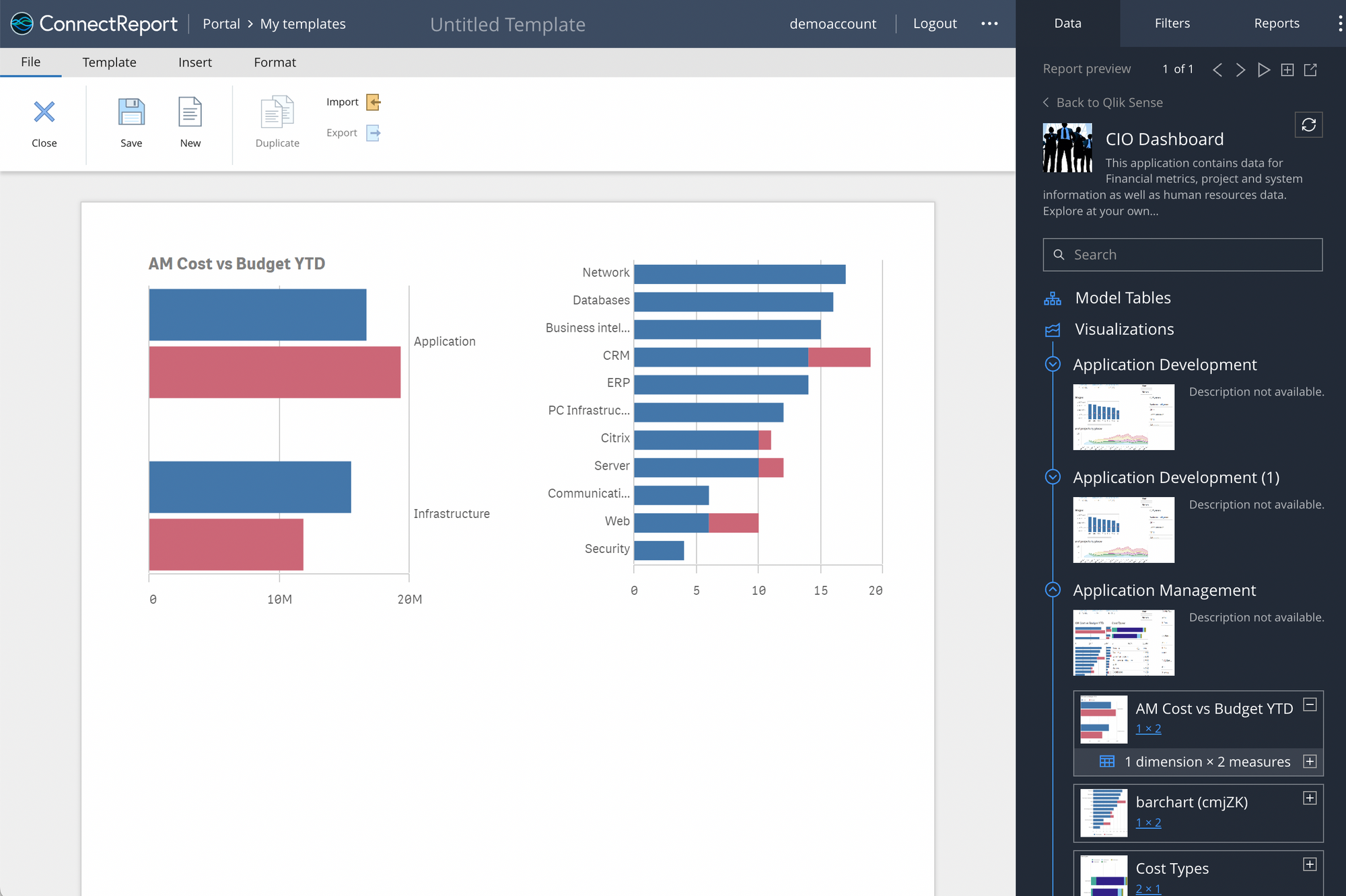 Reliability, Scale and Flexibility
ConnectReport leverages a modern, service oriented architecture built for massive scale enterprise document generation. Our product has been battle tested in some of the most complex and large scale data environments.
Modern IT and cloud teams appreciate ConnectReport's ability to support unattended updates and deployments, configuration through code and APIs, and flexible, stateless architecture. Read more about the ConnectReport architecture here.
Open APIs and Extensibility
Nearly all of ConnectReport's core capabilities can be automated through its developer APIs. The very same APIs that power the product's UI capabilities are available to developers to automate and leverage in their own applications. From template creation, to report scheduling, document distribution, and user and configuration management, ConnectReport delivers the building blocks needed to power document automation capabilities wherever they are needed and save teams time.