ConnectReport for Qlik Cloud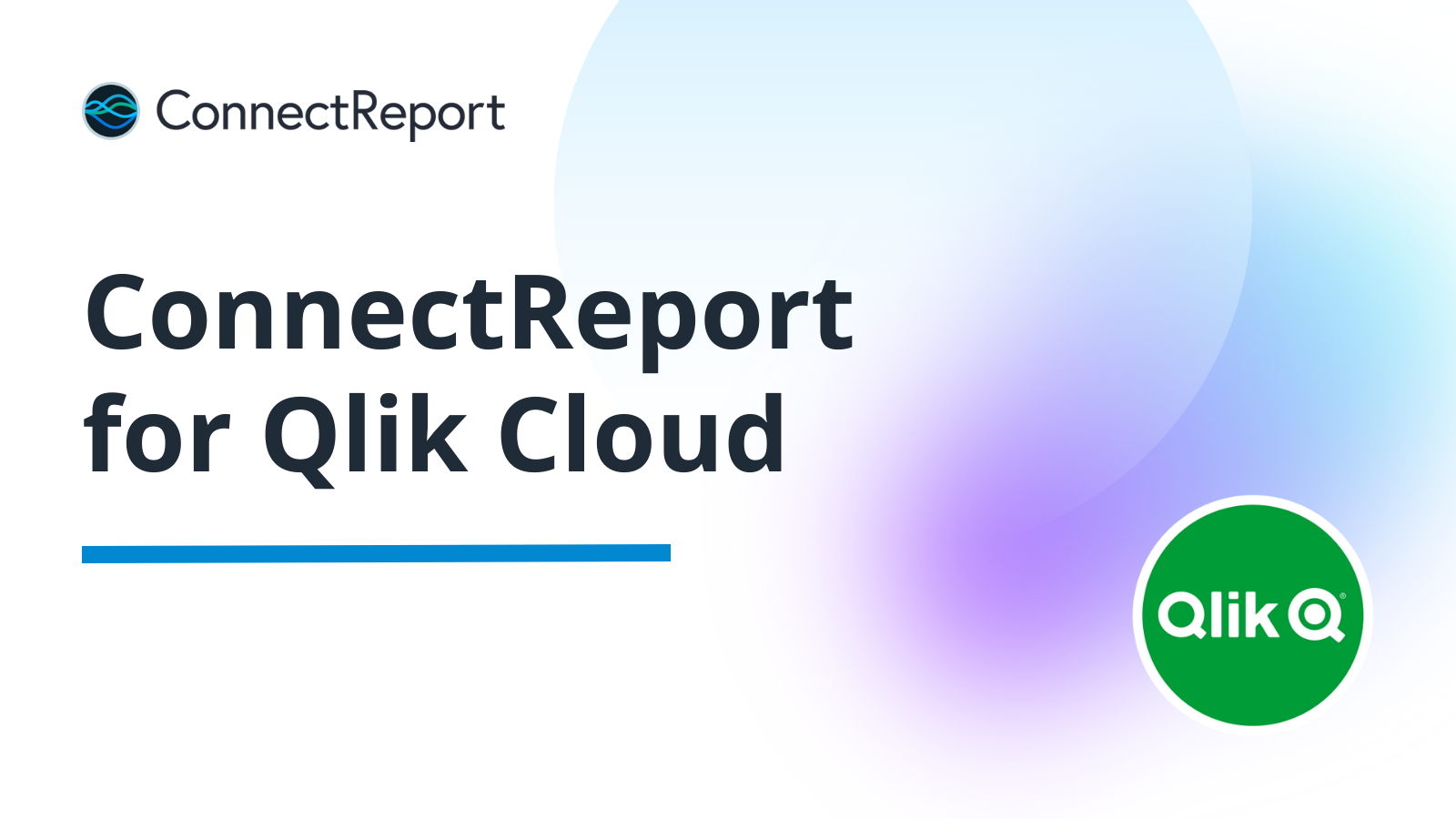 ConnectReport is the trusted enterprise reporting solution for Qlik Cloud that goes beyond legacy solutions to integrate with your organization's cloud-based workflows. A secure, centrally managed reporting platform accessed from a web browser, ConnectReport enables your organization to deliver reporting capabilities on top of your Qlik Cloud or Qlik Sense data and visualizations. ConnectReport's flexibility allows organizations to define their own reporting workflows as business requires rather than adapting to limitations of legacy solutions.
A trusted Qlik Technology Partner reporting solution
ConnectReport is proud to be a trusted Qlik Technology partner, delivering a comprehensive reporting solution that is seamlessly integrated with the Qlik suite of products. With ConnectReport, customers can simplify their Qlik reporting workflows, saving time and resources while delivering powerful insights that drive business results.
Powerful Qlik integration
Go from Qlik app to report in minutes.  ConnectReport's unique integration with Qlik allows report authors to drag and drop dimensions, measures, tables, visualizations and more directly from a Qlik app into a report template. This enables you and your users to rapidly build out and iterate on reports without the guesswork of other solutions.
100% web-based reporting
The ConnectReport solution has no dependency on desktop installed software and the entire experience, from report authoring to consumption, lives entirely in a centrally managed platform. ConnectReport's web-based template editor is accessed from a web browser, enabling organizations to deploy extremely flexible scheduled and on-demand reporting capabilities  to users with confidence and lower costs.
Open and extensible platform
With ConnectReport's open and extensible platform, organizations can achieve unprecedented flexibility and customization in their reporting workflows. ConnectReport's extensibility allows you to evolve and scale as quickly as your business requirements change, allowing you to stay ahead in today's rapidly evolving data and analytics landscape. Whether you need to integrate with multiple data sources or deliver a parameterized reporting integration with your own applications, ConnectReport's platform provides the tools and flexibility you need to get the job done. With ConnectReport, you have the power to build reporting solutions that are tailored to your unique business needs, and the agility to stay ahead in today's competitive landscape.
Move faster with ConnectReport
Partner with a team who knows how to deliver reporting quickly, efficiently and securely. With ConnectReport, reporting does not have to be your organization's core competency –  deliver documents on top of your data without budgeting hours of valuable time to develop and maintain your own reporting infrastructure. ConnectReport provides a customizable, cloud-ready reporting solution that allows you to quickly generate reports from your data, and securely share them with your team, stakeholders or customers. With ConnectReport, you can focus on what you do best, while we handle the reporting.